UNITE FOR QUALITY EDUCATION MARCH 20 SEPTEMBER 2014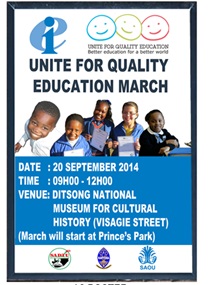 TEACHER UNIONS UNITE FOR QUALITY EDUCATION

South Africa's major education unions SADTU, NAPTOSA and SAOU are joining millions of teachers, learners, education leaders and education employees around the globe to celebrate the culmination of the Unite for Quality Education Campaign which has run for a year.
Education International (EI) – a global teacher and education employees' union federation, with a membership of 30 million teachers world-wide is spearheading the Campaign.
The Campaign was launched in New York and Paris in 2013.Six cities on six continents across the world have been chosen to host the culminating activities this year.
Pretoria in South Africa is one of the six cities chosen to host the event. Othercities include Sydney, Australia; New Delhi, India; Brussels, Belgium; Buenos Aires, Argentina; and New York, USA. Additional events are also being planned in other cities around the world.
South Africa will host a Unite for Quality Education march in Pretoria that will involve members and leaders from the three unions, together with learners and the general public.
Marchers will assemble at Prince's Park in central Pretoria at 9am on Saturday, 20 September 2014, before moving to Frances Baard Street and then along Sophie De Bryn Street to Ditsong National Museum for Cultural History in Visagie Street, where the event will be formally addressed by the Ministers of Basic Education– Angie Motshekga and Minister of Higher Education and Training - Blade Nzimande, the Presidents from the three unions (SADTU, NAPTOSA and SAOU) and the EI General Secretary.